The Illinois State Geologist serves as the authoritative spokesperson on matters of geoscience for the state of Illinois; represents Illinois with the Association of American State Geologists; and provides timely, accurate, objective information on research and scientific inquiries to the public, scientists, industry, and governmental agencies.
Activities of the Office of the State Geologist include:
Research: Prioritizing, promoting, directing, and conducting geological research in Illinois with a focus on addressing key socially relevant issues as well as serving key constituents and stakeholders.
Public policy: Working with local, county, state, federal, and international agencies on the relevance of the geosciences and its potential positive impact on laws, rule-making, and land- and water-use decision-making.
Education: Educating the public on the geosciences' importance (water and mineral resources, waste disposal, siting, construction, earth hazards, energy, and environmental protection) through presentations, publications, and online information.
Collaboration: Working with the American Association of State Geologists, U.S. Geological Survey, and foreign geological surveys to develop, enhance, and implement programs that benefit both scientific organizations and the public.
Ask a Geologist
Are you curious about the geology of Illinois? Have you found a rock, mineral, or fossil that you would like to know more about? Ask a Geologist connects geology enthusiasts with Illinois State Geologist Dick Berg and other geologists at ISGS. Submit your questions and up to three photos using the Ask a Geologist webform!
State Geologist Dick Berg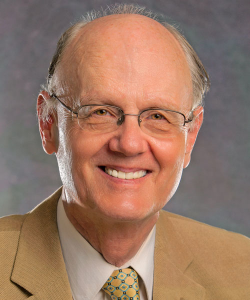 Illinois State Geologist Richard C. Berg is also the director of the Illinois State Geological Survey, where he has worked since 1974. His scientific specialties are Quaternary geology, aquifer sensitivity assessment, and 3D geological mapping. He has worked extensively with government officials at the local, state, and federal levels to promote a better understanding of the complexities of the subsurface as it applies to balancing economic development decision-making with wise water and mineral resource use and environmental protection. He received his Ph.D. in soil geomorphology from the University of Illinois.
State Geologist's blog